The results of the subindex for efficient and sustainable resource use have shown few exceptional performances for the region in Africa (Figure 2). Countries such as Chad (76), the Congo Republic (84), and Gabon (79) have high to very high scores for this dimension (Table A1.6 in Appendix 1). Their scores are higher than those for Denmark, which is the top ranking country with the highest global score in the Green Growth Index. Figure 26 shows that the three African countries perform better than Denmark in most of the indicators for efficient and sustainable resource.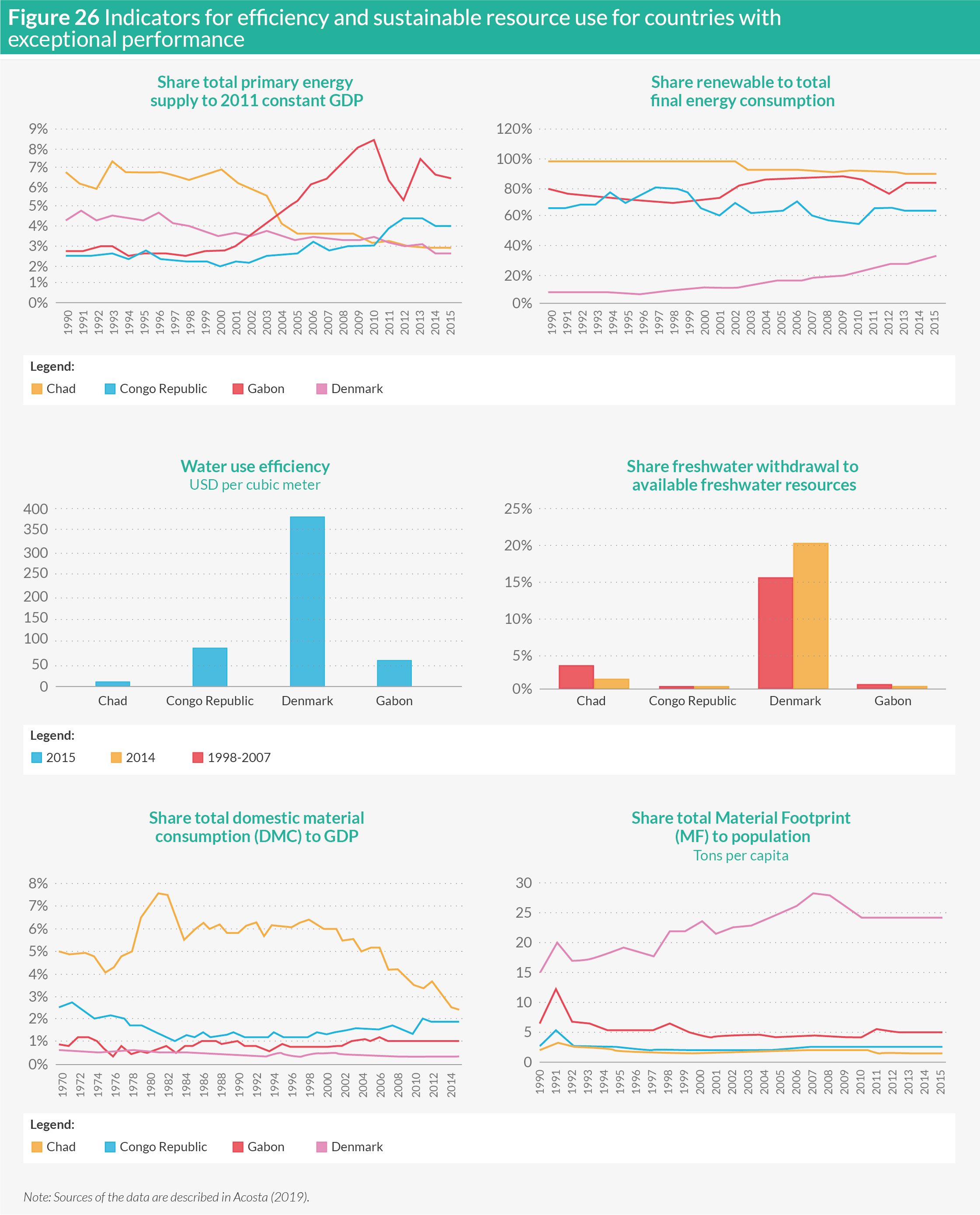 Except for Gabon, where the share of total primary energy supply to GDP has been increasing, the trend in the other countries shows either a significant decline, such as in the case of Chad, or relatively stable over time, such as in the case of the Congo Republic and Denmark (Figure 26). By 2015, Chad had reached the same level as Denmark. Chad has also the highest share of renewable energy to final energy consumption as compared to the other two African countries. Although Denmark has shown an increasing trend in share of renewable energy from 1990 to 2015, it continued to have much lower share than the African countries. It is worth noting here that the indicator on renewable energy, representing SDG Indicator 7.2.1 of the SDG Indicator, includes hydro, solid biofuels, wind, solar, liquid biofuels, biogas, geothermal, marine, and waste (UNSTATS, 2019). This very high renewable energy share of energy consumption is due to two main factors. In Gabon and the Congo Republic, a large share of net electric generation comes from hydropower, usually large dams (UNEP, 2017a). In the Congo Republic, this share is 53 percent, and in Gabon 43 percent in 2015 (IEA, 2015). A second major phenomenon is the inadequacy of the electric sector, leading to the use of biomass, such as charcoal and wood, as the major energy source. In Gabon, this is less the case; in the Congo Republic, only 66 percent of the population had access to electricity in 2017, while in Chad as low as 11 percent in 2017 (WB, 2019a). This implies biofuels dominate the energy mix, but they are not used in a sustainable way or respecting natural capital.
Although water use efficiency is very high in Denmark, it has a much higher share of freshwater withdrawal to available freshwater resources than the three African countries (Figure 26). Gabon and the Congo Republic have a very large amount of freshwater available due to climatic and geographic conditions. Both countries have extensive surface and groundwater, including rivers and aquifers (UN, 1989). Chad has a very large aquifer — Lake Chad Basin — but most groundwater use is done through small-scale shallow wells with very little quantity. Thus, the share of freshwater withdrawal to available freshwater resources is comparatively quite low. Nevertheless, the Lake Chad Basin aquifer is very sensible to climate change, and in recent years, a significant drop in groundwater recharge has been detected (GWP, 2013).
With regard to material use efficiency, the share of total domestic material consumption (DMC) to GDP is very low not only in Denmark but also in the Congo Republic and Gabon (Figure 26). Chad has a higher level because of its low GDP and dependence on the primary sector (e.g. farming, grazing, mining, forestry, fishing, etc.), which is 45 percent of the GDP in 2018 (WB, 2019b). Nevertheless, the value of this indicator was one-third below the world average in 2015. This could be attributed to low development and inefficient use of materials in industries, and the dependence of the economies on agriculture and/or oil production. 
In Denmark, the share of material footprint to population is high and increasing, while in African countries, this has remained relatively stable at a low level. Material consumption correlates to the standard of living. Chad has the lowest material footprint and has a GDP per capita of USD1,745 (constant 2011 PPP) in 2017 (WB, 2019c). The Congo Republic has a slightly higher material footprint and had a GDP per capita of USD5,024 in 2018. Finally, Gabon, which had a much higher GDP per capita of USD15,922 in 2018, has more than thrice the material footprint of Chad. Figure 27 shows that low material footprint per capita is not a distinct characteristic of these three African countries, which have low-income levels. Many other lowincome countries have low material footprint (MF) per capita. And as income level increases, the values for this indicator also increases.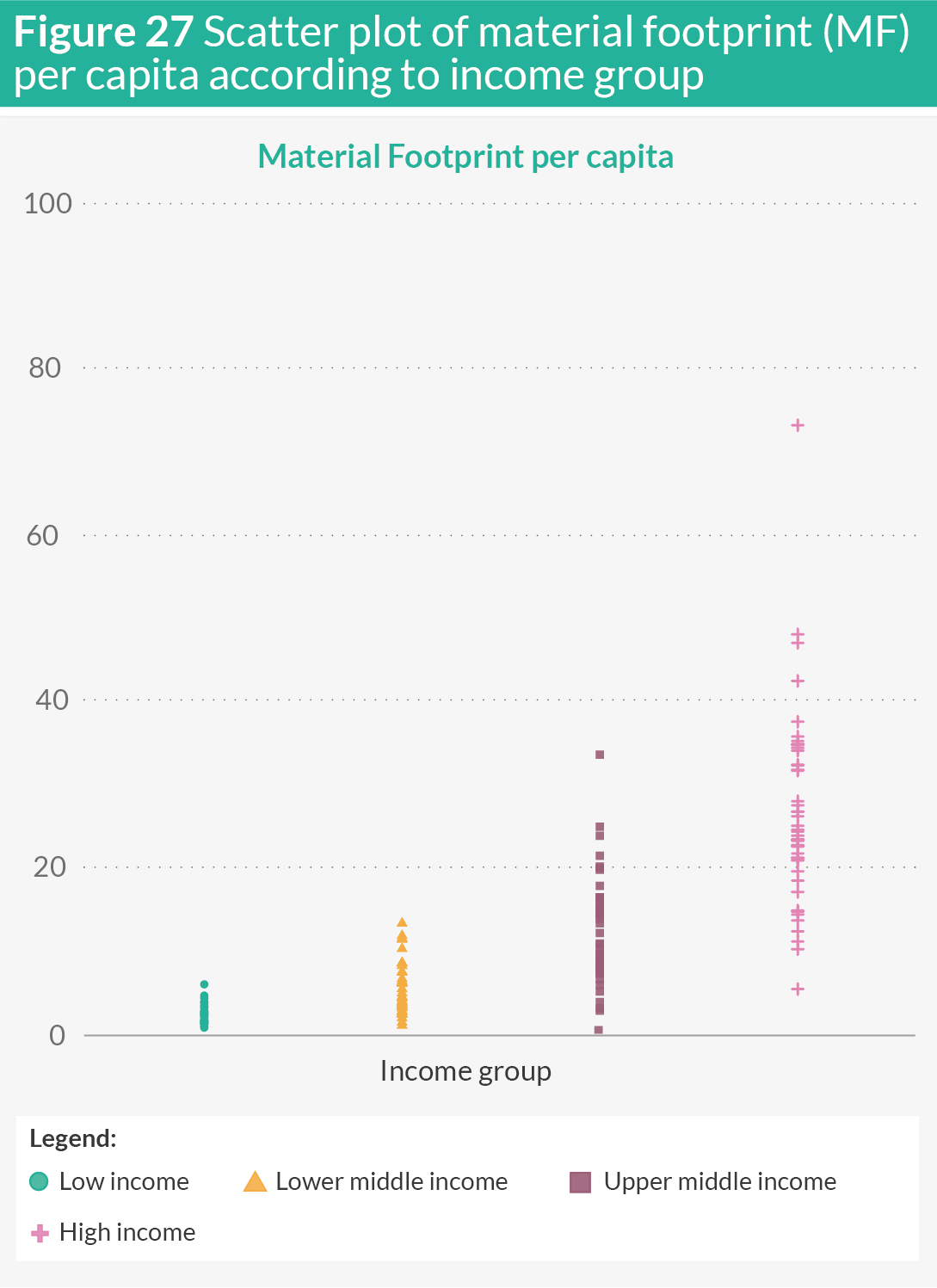 All in all, these values for Chad, Gabon, and the Congo Republic on the efficient and sustainable resource use can be explained by the nature of the indicators for this dimension. These countries have high renewable energy use because of their use of hydropower and biomass. Their energy efficiency is high because of low electric production and connection to an electric grid, usually concentrated in cities. Low water use with high freshwater stocks raises the subindex even more, with low material footprint on the production and consumption side further contributing to high values for this green growth dimension.