The top-ranking countries by region are Denmark in Europe, with an index score of 75.32; Singapore in Asia, with an index score of 58.53; the Dominican Republic in the Americas, with an index score of 55.10; New Zealand in Oceania, with an index score of 52.17; and Botswana in Africa, with an index score of 45.88 (Figure 25). Figure 25 shows the scores of the indicator categories used to compute the Green Growth Index for these five countries. The integration of the benchmarking method in the normalization process allows for measuring the distance of the indicators to the sustainability targets, that is, that a score of 100 means the target was reached (chapter 5.6.2). Note that many of the targets refer to the SDG targets for 2030 (Table 4). Moreover, other targets are not based on the SDGs but on mean values of top five performers for a given indicator; this implies that at least three countries have already reached the targets.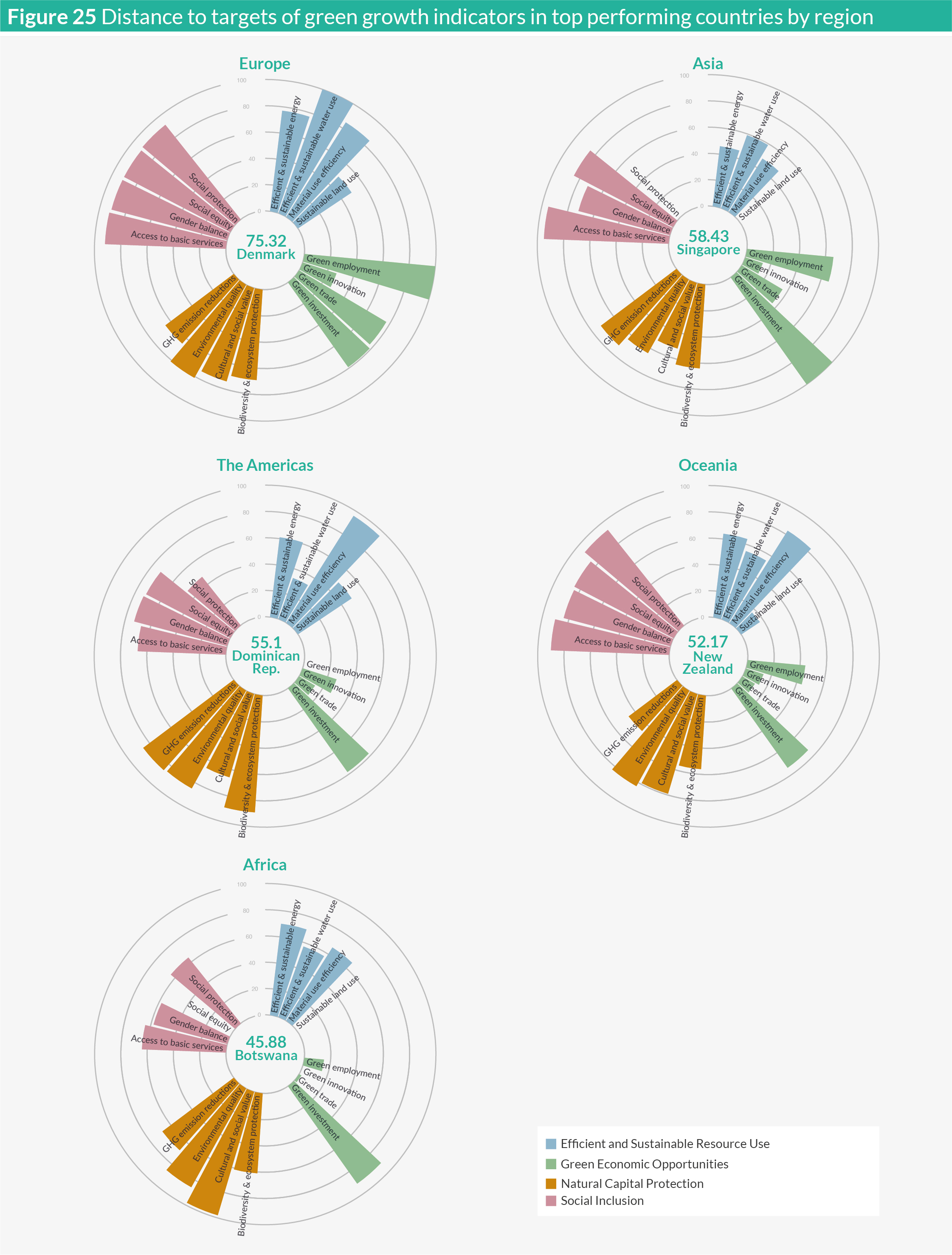 Denmark has reached targets for efficient and sustainable water use and green employment (Figure 25). Denmark has made significant improvements in its water consumption, consuming an average of only 104 liters of water per person a day in 2016 and decreasing further to 103 liters in 2017 (DANVA, 2017; Christian, 2018). Green jobs are rapidly increasing in Denmark, particularly in the industrial sector (State of Green, 2018). Denmark also performs well in all four pillars of social inclusion, almost reaching the targets, with scores higher than 80. With a score of 92 for social inclusion, Denmark comes close to the top performer globally, Sweden, which scores almost 94 (Table A1.4 in Appendix 1). Sweden holds the second highest score for the Green Growth Index, with score only slightly lower than Denmark's.
Singapore has reached the target for green investment (Figure 25), which is represented by adjusted net savings minus natural resources and pollution damages. As one of the few economically developed countries in Asia, it also performs well in providing access to basic services and resources to its population, with a score of 84. However, its performance in efficient and sustainable resource use is the lowest compared to the top countries in the other regions. Singapore's manufacturing industry is responsible for about half of its electricity consumption, which is causing challenges in the adoption of energy efficient practices and technologies (Sioshansi, 2013). A low score for efficient and sustainable resource use, however, may also be attributed to the lack of data on sustainable land use. 
The Dominican Republic almost reached the targets for material use efficiency as well as for biodiversity and ecosystem protection (Figure 25). The country is considered unique as far as protection of natural resources is concerned, with protected areas making up 25 percent of its land area and 54 percent of its territorial seas (Dudley, Boucher, Cuttelod, & Langhammer, 2014). The Dominican Republic also excels in other pillars for natural capital protection, including GHG emission reductions and environmental quality. However, performance in green economic opportunities is not very promising, with very low and low scores for green trade and innovation, respectively. The government has so far allocated 0.03 percent of its GDP to innovation (Dominican Today, 2019). Innovation on green products could help the country promote green exports. The Dominican Republic lacks data on green employment, which also affects its score for green economic opportunities. 
New Zealand has very high scores for all pillars of social inclusion, particularly for social protection (Figure 25). The need to promote equal opportunity for indigenous peoples has driven the country's social policy (Humpage, 2006). When it comes to natural capital protection, the country, although on its way to achieving targets for environmental quality and cultural and social value, has only moderate scores for biodiversity and ecosystem protection and for GHG emission reductions. Agriculture contributes significantly to GHG emissions, and industrial practices contribute to biodiversity degradation (Smith, 2015). New Zealand also receives very low scores for sustainable land use in connection with agricultural practices.
Botswana performs very well in most pillars for natural capital protection, particularly for cultural and social value and environmental quality (Figure 25). The government is actively taking part in preserving wildlife and habitats as part of a strategy for sustainable tourism (Ledger, 2017). Going forward, it is possible that the government's recent decision to lift its ban on hunting elephants to address impacts of the high elephant population on agricultural livelihoods (Burke, 2019) will lead to reduced scores in this area. Botswana scores very high on green investment but very low on green employment and green trade. The country's trade performance in nontraditional commodities is weak and low-tech (Baker, 2019), indicating opportunities for strengthening green trade.
It is worth noting that among the five top-ranking countries, Botswana has the largest data gap (7 indicators or 19 percent), mainly on indicators for social inclusion (Table A1.14 in Appendix 1). Dominican Republic and Singapore have missing data for only two and three indicators, respectively. Data for all indicators for Denmark and New Zealand are available.