Technical Reports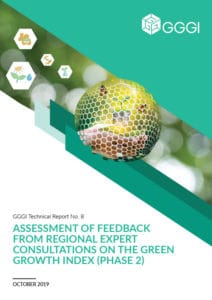 Assessment of feedback from regional expert consultations on the Green Growth Index (Phase 2)
October 2019   |   Download Report
This technical report presents the outcome of the four regional consultation workshops that were conducted through the GGPM Program to validate and enhance the policy relevance of GGGI's conceptual framework for the Green Growth Index. The main goal of the consultations was to ensure an inclusive and collaborative process in developing the Green Growth Index, which integrates expert preferences and priorities as well as creates a platform for the transparent development of the Index. The report aims to assess how policymakers and other stakeholders understand green growth, why knowledge on green growth diverges across regions, and what common understanding can be integrated in the green growth framework to enhance relevance of the index for policy decision-making.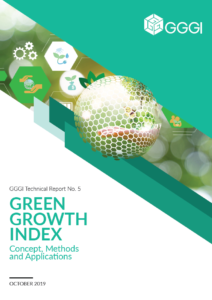 Green Growth Index: Concept, methods and applications
October 2019   | Download Report
Other related links:
Download Metadata
Download Summary Report
Download Brochure

This technical report provides detailed information on the indicators for the four green growth dimensions and methods for preparing, checking and aggregating the indicators. It also presents and discusses the results and applications of the Index. The technical report is complemented by metadata, summary report and brochure.
Insight Briefs
Thank you for visiting. This page will be updated soon.
Working Papers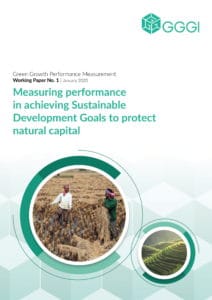 Measuring performance in achieving Sustainable Development Goals to protect natural capital
January 2020   |   Request a copy
The paper discusses the performance on achieving Sustainable Development Goals (SDGs) for natural capital protection dimension of the Green Growth Index. This dimension has four pillars including environmental quality, greenhouse gas [GHG] emissions reduction, ecosystem and biodiversity protection, and cultural and social value. The paper concludes that many regions are performing better in environmental quality and GHG emissions reduction, but struggling to improve the low performance in biodiversity and ecosystem protection as well as cultural and social value.
Newsletters/ Infobriefs
Thank you for visiting. This page will be updated soon.
Journal Articles
Thank you for visiting. This page will be updated soon.